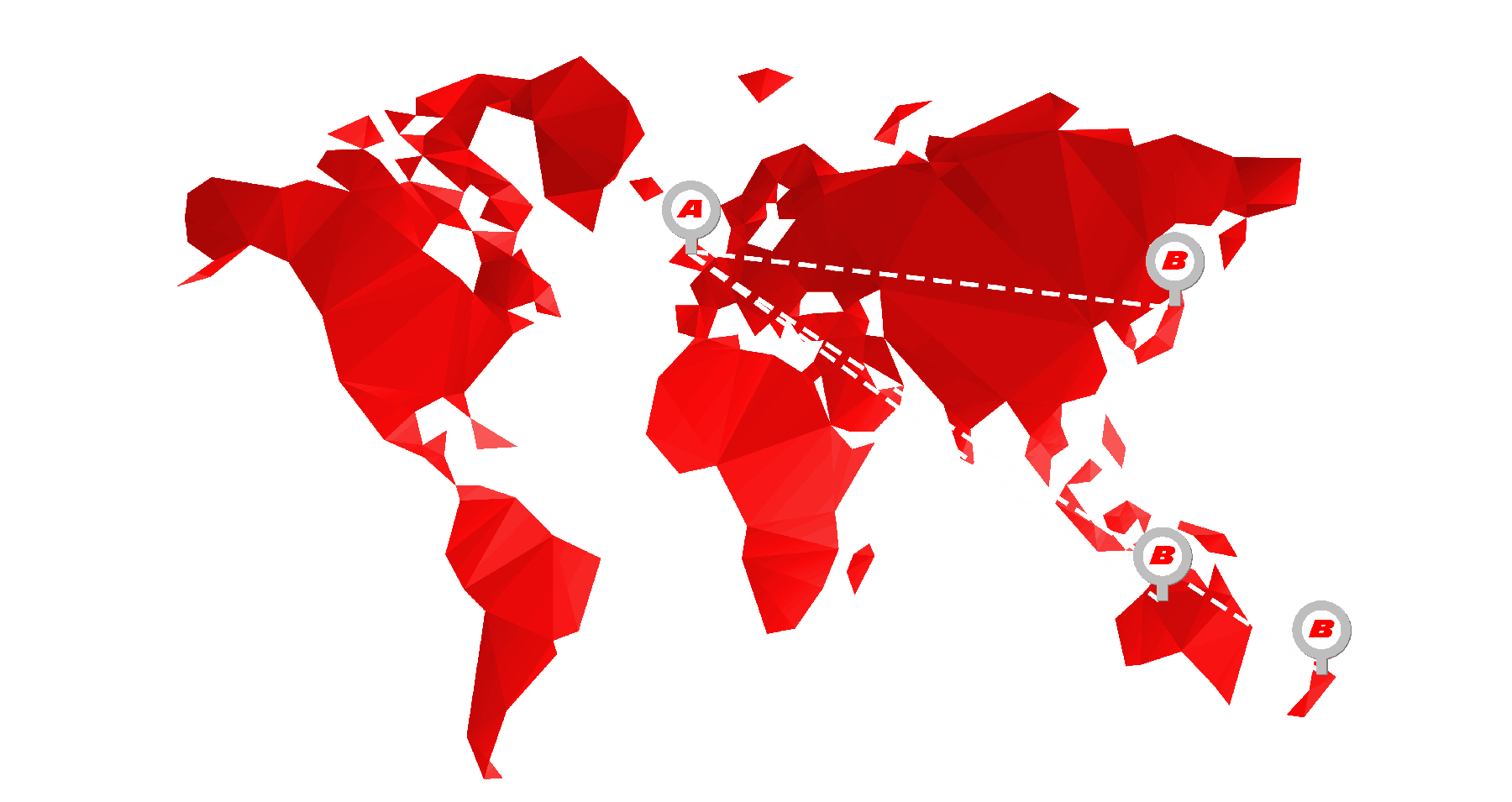 Import a Vehicle From the UK Worldwide
Shipping to or from a different location?
To see country specific info, please enter it below.
Professional Shipping Services: Importing cars from the UK to You
AUTOHUB offers professional international car shipping services around the world, including from the UK to your required destination.
Stress-free importing of vehicles from the UK, including all export and import requirements.

Door-to-door fixed-price service for a seamless importing experience.

RoRo (roll-on, roll-off) shipping from two ports in the UK.
We offer import and export services from the UK
AUTOHUB's years of experience and our streamlined processes ensure your vehicle is kept safe throughout the entire importation process from the UK. Our established relationships with logistics and shipping companies in the UK and around the world means we can import your vehicle to many international destinations. We ensure peace of mind for you throughout the import or export process.
Here are some key destinations we can ship vehicles to from the UK:
New Zealand

Australia

Japan
Why choose AUTHOHUB 
We are trusted shipping partners and will take complete care of your vehicle when shipping it from the UK.

We offer several shipments each month from the UK to Australia, New Zealand (NZ) and Japan. 

We offer buyers and sellers complete security, including facilitating payment, to help ensure a smooth and secure transaction.

We pioneered the AUTOHUB D2D one-stop, fixed-price, guaranteed vehicle delivery system to Australia and NZ.

We can negotiate excellent services and prices with UK suppliers, which we pass on to our customers.

We take care of the many factors involved in shipping cars from the UK. We offer a single fixed price, which gives you peace of mind that you won't be faced with any hidden shipping-related costs.
AUTOHUB vehicle shipping services from the UK
When shipping a vehicle from the UK we can help with the following services:
Receive the vehicle at one of our export centres.

Survey and photograph the vehicle's condition when it arrives.

Take care of the necessary pre-export clearance process.

Provide full shipping services to import the vehicle to your destination of choice.

Collect the vehicle from the port of discharge.

Transport it to your specified destination address.
Services provided by AUTOHUB
AUTOHUB can transport your vehicle from the UK using our comprehensive Door-to-Door (D2D) service, or you can choose which elements of our professional service meet your needs. Below is a list of the services we offer.
A Gate-In survey and photos in the UK when we take control of the vehicle.

Payment of UK Port Service Charges

BAF (Bunker Fuel Charges)

Payment of applicable duties and taxes

Full insurance while your car is in our care

Customs clearance (if required)

Quarantine inspections (if required)

Payment of permit and processing fees, Excise Duty, and Goods & Services Tax (GST) (if required).
Note: If the vehicle you're shipping from the UK is larger than 20m3 please provide AUTOHUB with the vehicle's exact dimensions when requesting a quote. This will help us provide a more accurate price, based on shipping requirements.
Comprehensive insurance coverage with AUTOHUB
Customers who choose to import vehicles from the UK with our D2D package will benefit from comprehensive insurance coverage.
Your imported car will be covered under Institute Cargo Clause A. This provides cover for all risks associated with loss or damage to the vehicle. It commences when AUTOHUB takes care and control of your vehicle.

Insurance cover continues during transit until it is delivered to your specified local delivery address in your destination country.

Insurance covers total loss, collision damage, and fire and theft of non-modified, driveable, road-going vehicles only.
You can learn more about our comprehensive insurance cover in our handy guide.
UK collection of vehicles for shipping
Vehicles can be driven directly to the port facility or transported by an appropriate carrier.
UK Value Added Tax (VAT) handling and re-claim
VAT is the UK's sales tax. Certain new or used vehicles qualify to have this tax re-claimed if they are exported outside of the Eurozone (EEC). There are very strict criteria and documentation around this process.
AUTOHUB has a contractual arrangement with a VAT-registered company within the UK, so we can help you reclaim VAT for qualifying vehicles. If your vehicle and the vendor fit the qualifying profile, we can help with VAT reclaim. Reclaiming VAT on your vehicle could save you a substantial amount on the purchase price, so it's worth checking your vehicle is eligible before you buy.
Sourcing and importing suitable vehicles
AUTOHUB has been in the import and export business for a long time and has built up established and trusted relationships around the world, including in the UK. One of these relationships is with BUYUKCARS. 
BUYUKCARS can help you find suitable cars from reputable sources in the UK with confidence. AUTOHUB can also help you buy vehicles from five major auction chains in the UK and facilitate introductions to UK vendors.
If you are unsure if a vehicle you're considering meets your local vehicle import criteria, our expert team can provide sound advice and give you peace of mind before making a purchase. 
Importing considerations:
You'll need to pay a shipping charge, which includes a clearance fee, to AUTOHUB in the UK. If you choose to use your own customs broker in the UK and book a shipment with AUTOHUB, your appointed customs agent must pay the shipping charge directly.

If you're shipping a vehicle that cannot be driven, please provide AUTOHUB with details of why the vehicle isn't operational, so we can arrange for the appropriate shipping type and provide an accurate quote.
Customer Feedback
We have many satisfied customers who have used our services to import vehicles from the UK to key destinations around the world, including New Zealand, Australia, Singapore, and Japan.
Here's what some of our clients have to say:
Awesome to work with!
The service Autohub team provides is always professional and impressive. Very easy to communicate with, fast reaction and always friendly. They try to respond to my multiple requests and it is major help for my business.
Thank you for Autohub team.
Regards, 
Hey Brett,
Thanks very much for getting everything sorted.
The service from Autohub both in Japan and from yourself has been great.
I've done this a few times now and this has been the easiest, and cheapest, by far.
I will certainly recommend you guys to people looking to import cars from Japan. I imagine with the change of rules next year business will increase so good luck and thanks again.
Cheers mate, 
"*" indicates required fields
Frequently Asked Questions
How much does it usually cost to import a car from the UK?
The cost of importing a car from the UK will depend on several factors, including the make, model, and age of the car, your destination country, and its import regulations. Here are some of the costs associated with importing a car from the UK:
Purchase price. The cost of the car in the UK is the first major consideration.

Shipping fees. The cost of shipping the car from the UK to your destination country will depend on the distance and the type of shipping you choose. Shipping costs can range from a few hundred dollars to several thousand dollars.

Registration and licensing. The cost of registering and licensing the imported car in your destination country will also vary depending on the country and the type of car. This may include fees for license plates, title transfer, and other administrative costs.

Customs duties and taxes. Your destination country may impose customs duties and taxes on imported cars, which vary depending on the country's rules and the value of the car. 

Inspection and certification. Some countries may require imported cars to undergo inspection and certification before they can be registered for road use. This can include emissions testing, safety inspections, and compliance with local regulations.

Other costs. Other costs associated with importing a car from the UK may include insurance, storage fees, and any modifications needed to comply with local regulations.
The cost of importing a car from the UK can range from several thousand dollars, according to these factors. That's why it's recommended you discuss your options with vehicle shipping and logistics professionals, like AUTOHUB, before proceeding.
Is it worth importing cars from the UK?
Whether it's worth importing a vehicle from the UK depends on various factors, such as the cost of the vehicle, import costs and taxes, the condition and age of the vehicle, and the regulations and requirements of your destination country.
Here are some key factors to consider:
Availability. If the make and model of the vehicle you want isn't available in your destination country, importing one from the UK may be a viable option.

Cost. The cost of the vehicle in the UK, including shipping and import costs, should be compared with the cost of buying a similar vehicle in your country. Factor in all the costs associated with importing the vehicle, such as taxes, customs duties, and other fees.

Condition and age. The condition and age of the vehicle should also be considered, as importing an older vehicle may require costly modifications to meet the requirements of your destination country.

Warranty and support. It may be more difficult to obtain a warranty and support for an imported vehicle, as local dealerships may not be able to service or provide parts for the imported vehicle.
Regulations and requirements. The regulations and requirements of your destination country must also be considered, as your imported vehicle may require modifications or certifications that can be costly and time-consuming.